Privacy Policy
What information do we collect?


We collect information from you when you subscribe to our newsletter, purchase any products from cop-apps.net, or use our apps. If you purchase firearms from cop-apps.net, we collect all information required by the ATF.

When ordering on our site or subscribing to our newsletter, as appropriate, you may be asked to enter your: name, employer name, e-mail address, mailing address, agency name, phone number or credit card information. You may, however, visit our site anonymously. Newsletter subscriptions through Direct Mail report back the IP Address of subscribers for the purpose of determine approximate locations of our subscribers (IP Addresses are not subscriber-specific and do change).

When you use our apps, we collect statistical information (device model identification, OS type, OS version, screen size, screen density, IP address, etc.) but nothing that allows cop-apps.net to have specific knowledge of information contained on any one device. See (3) below for details on use.

MyFI: We collect any and all information created using the MyFi. A Fi-Card is an individual field interview card created within the MyFI app. Fi-Cards edits are permanent and Fi-Cards may be deleted from the user's profile, but the card will remain stored on the server. We do not exploit any of the data collected by law enforcement officers for any reason. All Fi-Card data is confidential and will only be provided pursuant to a court order or a subpoena that has not been quashed by opposing parties.


What do we use your information for?


Any of the information we collect from you may be used in one of the following ways:

(1) To process transactions
Your information, whether public or private, will not be sold, exchanged, transferred, or given to any other company for any reason whatsoever, without your consent, other than for the express purpose of delivering the purchased product or service requested.

(2) To send periodic emails
The email address you provide for order processing, will only be used to send you information and updates pertaining to your order.

(3) To identify trends
A typical report in which statistical information described above is used to analyze trends appears as such: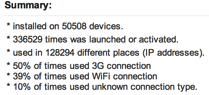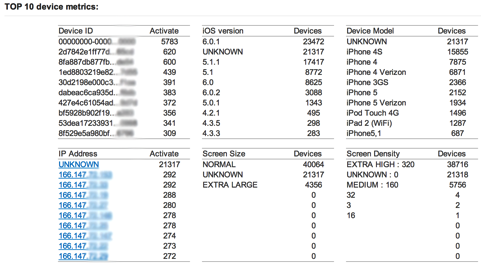 How do we protect your information?


We implement a variety of security measures to maintain the safety of your personal information when you place an order or enter, submit, or access your personal information.

We offer the use of a secure server. All supplied sensitive/credit information is transmitted via Secure Socket Layer (SSL) technology and then encrypted into our Payment gateway providers database (PayPal) only to be accessible by those authorized with special access rights to such systems (PayPal only), and are required to keep the information confidential.

After a transaction, your private information (credit cards, social security numbers, financials, etc.) will not be retained by cop-apps.net.

With respect to MyFI app information, the database is transmitted via Secure Socket Layer (SSL) technology and stored on our encrypted servers.


Do we use cookies?


We do not use cookies.


Do we disclose any information to outside parties?


We do not sell, trade, or otherwise transfer to outside parties your personally identifiable information. This does not include trusted third parties who assist us in operating our website, conducting our business, or servicing you, so long as those parties agree to keep this information confidential. We may release your information when we believe release is appropriate to comply with the law, enforce our site policies, or protect ours or others rights, property, or safety. However, non-personally identifiable visitor information may be provided to other parties for marketing, advertising, or other uses. Additionally, if an officer for a law enforcement officer or law enforcement agency inquires about an app, we will reveal personally identifiable information of other users the law enforcement officer or law enforcement agency may known in order to critique an app, provide developer feedback, or establish a users group.


Third party links


Occasionally, at our discretion, we may include or offer third party products or services on our website. These third party sites have separate and independent privacy policies. We therefore have no responsibility or liability for the content and activities of these linked sites. Nonetheless, we seek to protect the integrity of our site and welcome any feedback about these sites.


California Online Privacy Protection Act Compliance


Because we value your privacy we have taken the necessary precautions to be in compliance with the California Online Privacy Protection Act. We therefore will not distribute your personal information to outside parties without your consent.


Children's Online Privacy Protection Act Compliance


We are in compliance with the requirements of COPPA (Children's Online Privacy Protection Act), we do not collect any information from anyone under 13 years of age. Our website, products and services are all directed to people who are at least 13 years old or older.


Legal Disclaimer


Please also visit our Legal Disclaimer section establishing the use, disclaimers, and limitations of liability governing the use of our website at
https://www.cop-apps.net/privacy/disclaimer/index.html
Application Permissions


The following permissions are requested for application use:

INTERNET - Allows the app to create network sockets and send/receive data to/from the Internet.

ACCESS_COARSE_LOCATION - Allows the app to access approximate location from location providers using network sources such as cell tower and Wi-Fi. This is required for EvidenceCam and GPS Coordinates to function.

ACCESS_FINE_LOCATION - Allows the app to access precise location sources such as Global Positioning System on the device. This is required for EvidenceCam and GPS Coordinates to function.

WRITE_EXTERNAL_STORAGE - Allows the app to write to the USB storage and/or to the SD card.

ACCESS_NETWORK_STATE - Allows the app to view information about the network connections such as which networks exist and are connected. This information is also used in analytics and statistics.

READ_PHONE_STATE - Allows the app to access the phone features of the device. An app with this permission can determine the phone number and serial number of the phone, whether a call is active, the number that call is connected to and the like.

RECORD_AUDIO - Allows the Audio Recorder feature to function using the device's microphone.

CAMERA - Allows EvidenceCam to function using the device's camera.

CHECK_LICENSE - My app has licensing enabled to prevent users from sharing it for free.

C2D_MESSAGE - Enables users to receive my Push Notifications

RECEIVE - Enables users to receive my Push Notifications

WAKE_LOCK - I have no clue.

READ_EXTERNAL_STORAGE - Allows the app to read to the USB storage and/or to the SD card.
Your Consent


By using our apps and website, you consent to this privacy policy.


Changes to our Privacy Policy


If we decide to change our privacy policy, we will post those changes on this page.


Contacting Us


If there are any questions regarding this privacy policy you may contact us using the information below.

Albrechtsen & Co., LLC
d/b/a cop-apps.net
707 Miamisburg Centerville Road
Suite #303
Centerville, Ohio 45459
United States
mark@cop-apps.net
(614) 664-7892