SSL Secure Storage
Field interviews are stored on a secure server for web access and retrieval if the user switches devices.

Airprint
You don't need to install a driver or configure the printer queue. Tap print, select the printer that supports AirPrint, and print. It's that simple.
More info...

Search FI Cards
FI card fields are searchable. Searching for someone that is bald, with green eyes, and a member of MS-13? Place those identifiers in the search field to locate potential suspects.

GPS Locations
Remember a location but not the person? Need to compare locations to a crime map? Search pinned interview locations on a map to determine possible suspects.

Browser Access
Users can access their FI-Cards via the web. Users with a confirmed law enforcement email address can search all field interviews to support information sharing amongst multiple agencies within the same geographical location.

Share FI Cards
Share in-app or via the web. FI-Cards can be shared between users, or groups of users, and even emailed in a PDF format so that the information remains uncompromised.
PDF Version
|
HTML Version

Add Photos
Take pics of tattoo, vehicles, persons, acquaintances, etc. and attach them to the FI card. Remember a face but not a name? Remember a vehicle but not a license plate? Search the photo library.

Universal App
A Universal app is an app that is able to run on all iOS devices—it is essentially an iPhone app, an iPad app, and an iPod Touch app, all built into one. No need to download a separate iPhone and iPad app - downloading only one app works for all devices.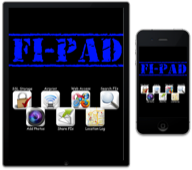 You must publish this page to see the comments working correctly..!